02. July 2012
In our video interview, Joan Smalls talks about what it's like to model next to a car: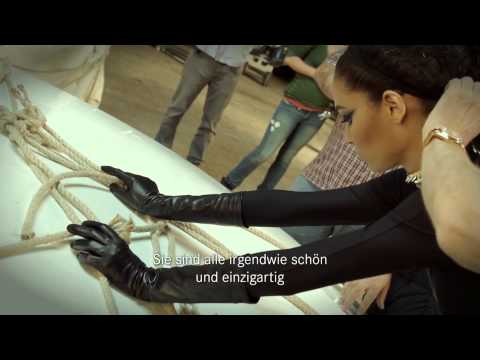 A self-made woman: Before Joan Smalls worked her way up to become a hotly sought model around the world, she had successfully completed a psychology degree – then packed her bags and flew off to New York to grab her chance at becoming a model.
Born in Puerto Rico, this exotic beauty with a gazelle-like figure spent her evenings at home lounging on the sofa with her two dogs. Then one day she discovered the fascination of model casting shows – her first exposure to the business was planted. Motivated by the thought that a model's salary could enable her family to live a more comfortable life, Joan finally listened to the advice her friends had been giving her: "You should be a model."
What's usually only possible in the movies became reality for Joan Smalls. Following her stay in New York in 2007, Joan's first job was as a model for Elite Models. Her switch to IMG, the world's leading model agency, in 2010 led to her big break: She was booked by Riccardo Tisci for the Givenchy Couture Show. And became a star overnight. Since then, the 5′ 8″ super-model has already strutted over 200 catwalks of the world, has donned the covers and fashion spreads of countless magazines, and is also the face for Estée Lauder cosmetics.
Joan herself describes her whirlwind career as a "born-again" phenomenon. But despite her miraculous success, the South American has never lost sight of the important things in life. She enjoys pasta, meat and beans to the fullest and doesn't bother with dieting. When her first paycheck as a model came through, the very first thing she did was buy her father a pick-up. ¡Qué simpática!